Dries Van Noten
View More
Ballpoint pen drawing on 2.4m tablecloth for Dries Van Noten (Singapore store)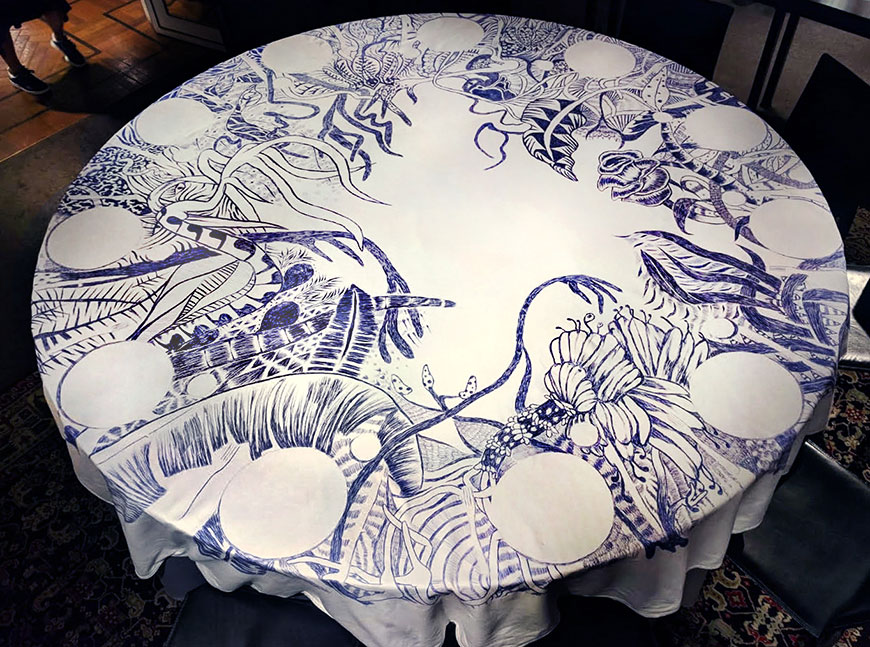 Gut Feeling – EyeYah Magazine
View More
Illustration for the food issue for EyeYah Magazine, for children to understand what happens inside the gut when we eat processed food. 12 gummy bears are hidden in the image.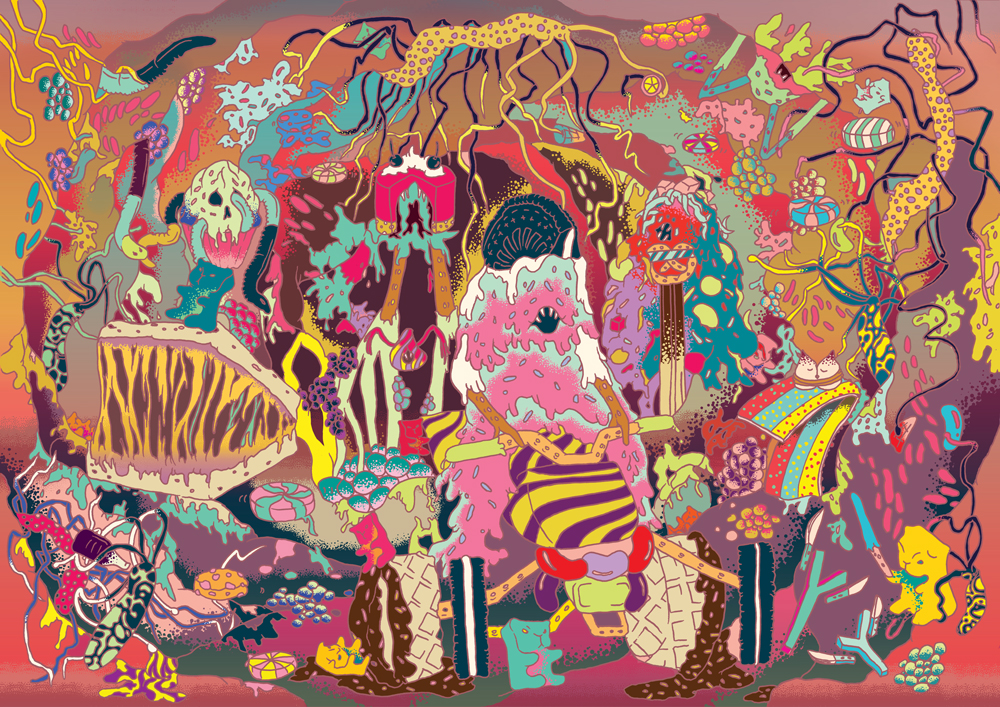 125 Years of Vanda Miss Joaquim – Postage Stamps
View More
Illustration and design of postage stamps, first day cover and related collateral for the 125th Anniversary of the Vanda Miss Joaquim, national flower of Singapore. This issue also celebrates her creator, Ms Agnes Joaquim, also the first woman in the world to create an artificial hybrid orchid.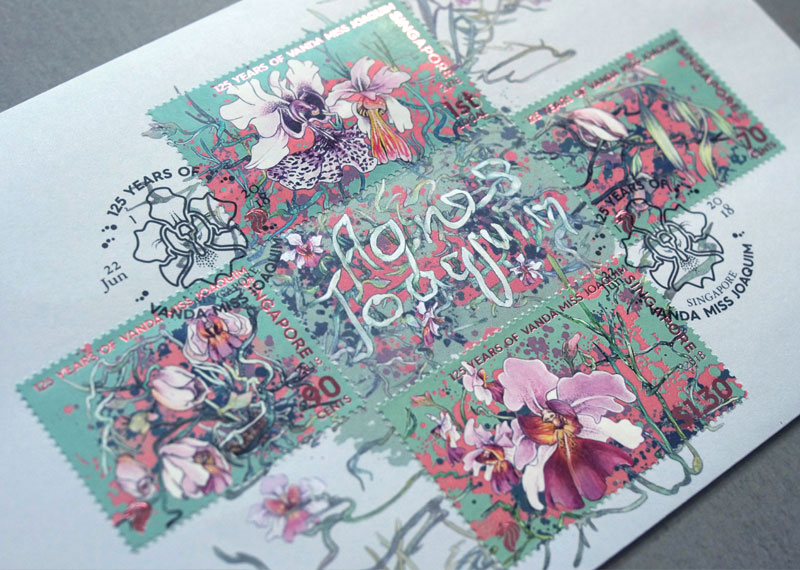 SONOS Holiday Campaign – Wrap it with music
View More
A Bohemian themed wrapper made for Sonos Shanghai, for customers to wrap up their gifts with a special playlist in the QR code embedded in the wrapper.
PAWsitive Exhibition – An interactive art show for dogs and cats
View More
"A Whole New World" is an multimedia art installation aimed at simulating a flying-carpet experience for dogs. Sponsored by Wellness pet food, installations create an opportunity for owners to bond with their pet.
Multiply - A Majestic Playground
View More
New work for the closing down party of the New Majestic Hotel. Featuring an all-over pattern of the elusive Queen of the Night bloom.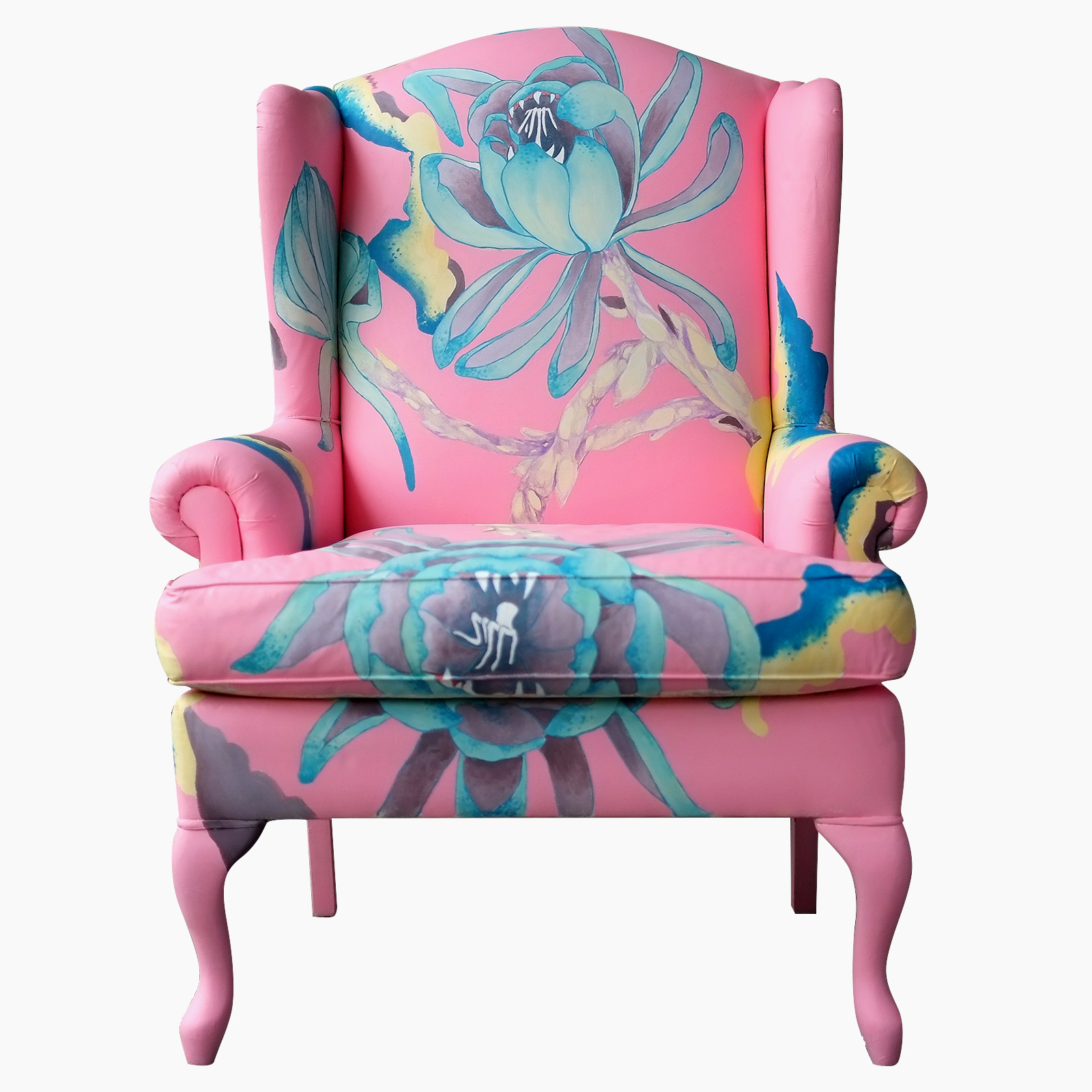 P.I.F by Kevin Seah – Artist collab
View More
"Strange Critter", a t-shirt design for Bespoke menswear maker Kevin Seah's non-profit label P.I.F (Pay It Forward). 30% proceeds go to mentally disabled children.
Uniqlo Jeans
View More
Painting on Uniqlo's new denim range to celebrate its launch and also the anniversary exhibition of Uniqlo's first Global Flagship store in Southeast Asia.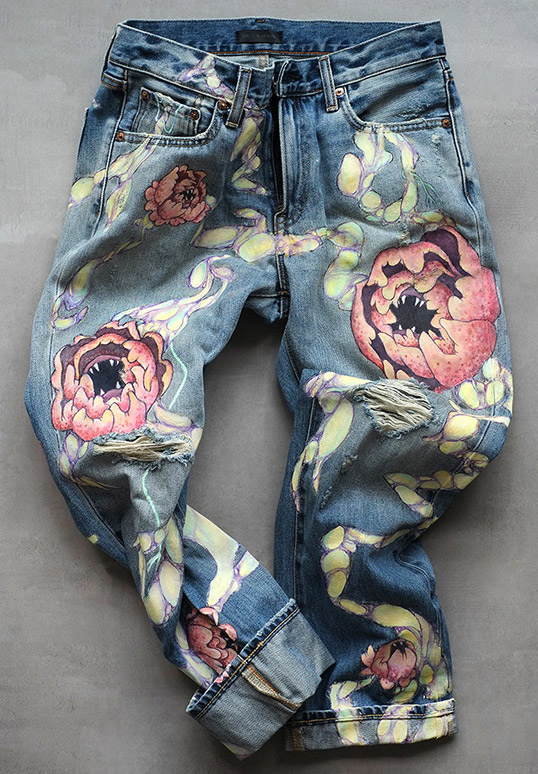 Heirloom Series – Ashes To Ashes
View More
Part of my first solo show "heirloom", this piece is about death and growth.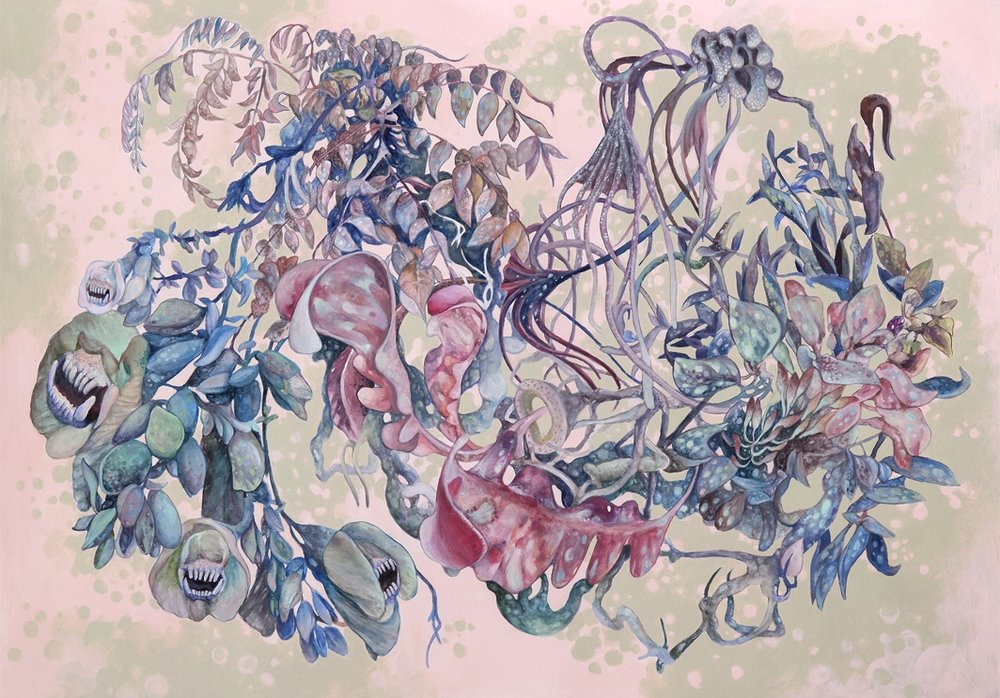 Mightyjaxx x Jason Freeny Gingerbread Toy customisation show - Petri Dish
View More
"Petri Dish" is a little gingerbread man getting slowly broken down by different kind of micro organisms - his little bones glow in the dark. He is a little custom piece made for toymaker Mightyjaxx's Gingerbread show featuring customs of their toy produced for Jason Freeny.
HP x Intel for SG50
View More
Painted for Hewlett Packard and Intel's "Wear your pride" campaign, celebrating Singapore's 50th year of independence. This design features pink bougainvillea that line our passage to the airport and the commonly seen mynah birds, a sight that greets visitors and locals coming home to the island.
Uniqlo Flagship Store Singapore
View More
An illustration for Singapore themed paperbags at Uniqlo's first global flagship store. Inspired by the octopus sculpture at marine parade, I have used it as a metaphor to describe this island's inhabitants with their earnest sense of productivity and practicality.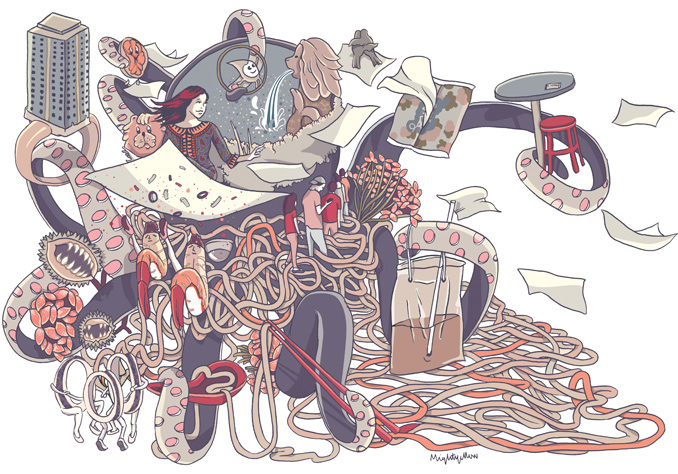 Levis x Mightyellow
View More
Series of hand painted denim jackets with Levis for a street culture con.
Nature Of Things – Collaboration with Tiffany Lovage
View More
2m x 5m wall mural, titled "Nature of Things". A celebration of the phenomena of the world, the living and it's structure. Here, we observe tigers. The unseen anatomy that holds us together and protects; the beauty of the botanical and it's fluid and spontaneous course. Here, we celebrate the juxtaposition of construction and flow. A visual summation and representation of the nature of things.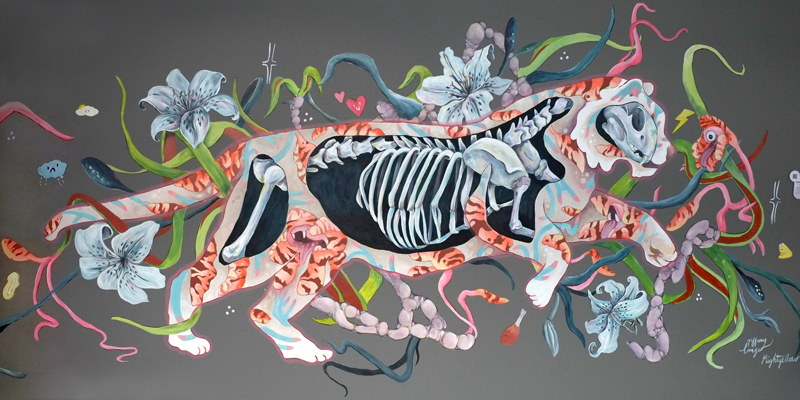 Poppy custom shoe painting – private commission
View More
An all round pattern of bright-eyed poppies on leather pumps.
Mutant E-waste – EyeYah Magazine
View More
An illustration of a polluted seabed, for a children's publication, EyeYah Magazine. Made for an issue about the internet, this spread is about the copious amounts of ewaste we generate.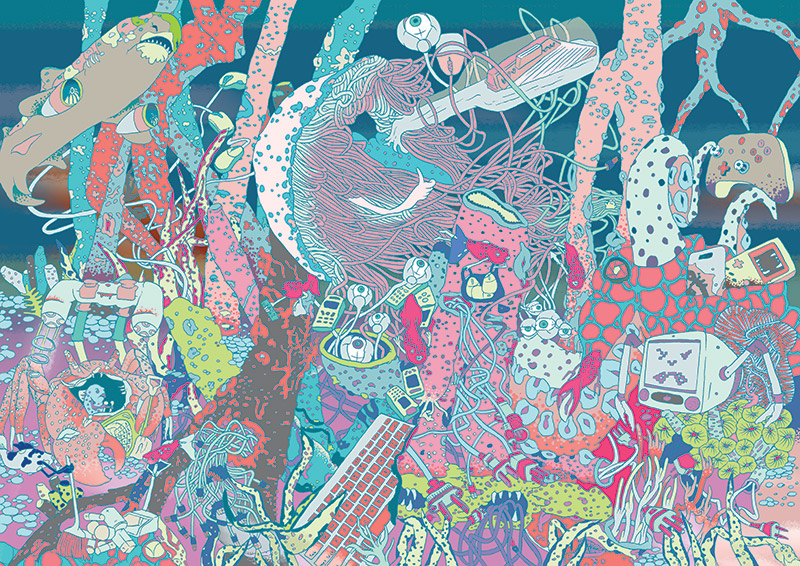 Tanavit23 x Mightyellow – Pitohui
View More
A customised toy based on a blank from Jereny Tanavit's "Pitohui".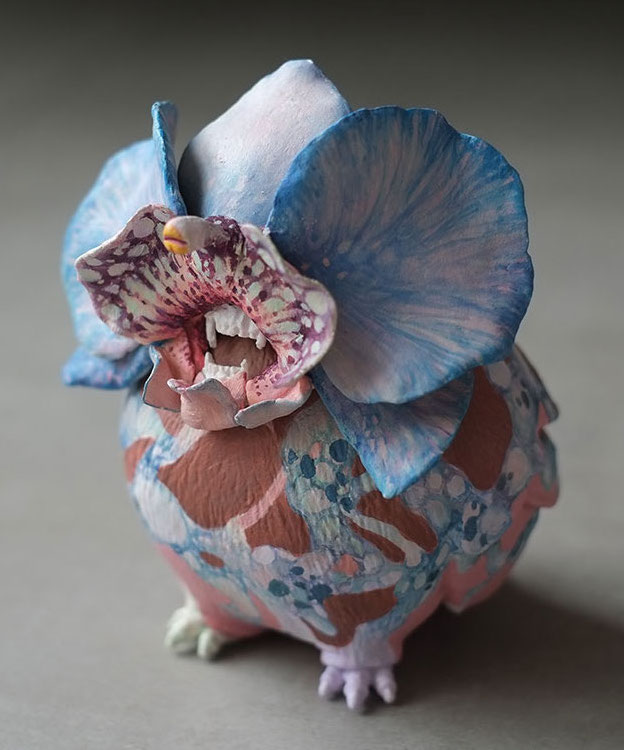 Heirloom Series - Itsy Bitsy Spiders From Mars
View More
Part of my first solo show "heirloom".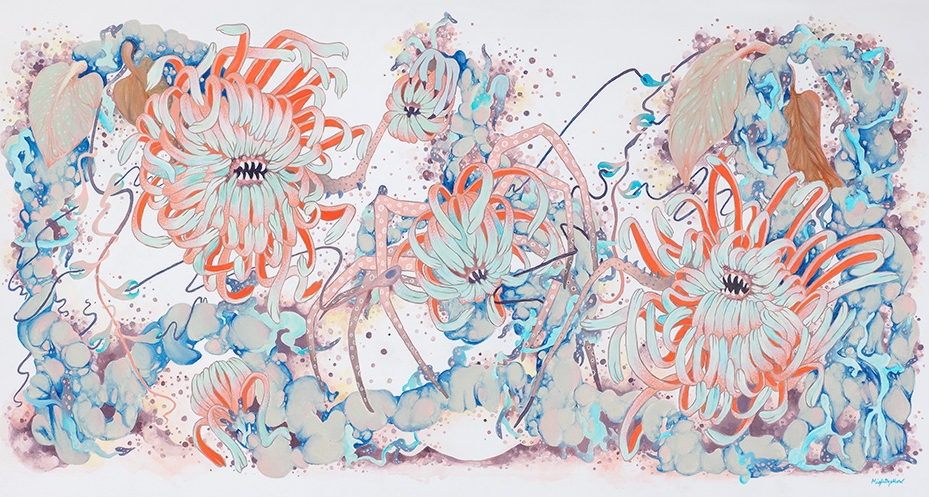 Secret 7" - Digital Witness
View More
Invited to take part in the Secret 7" exhibition at the Somerset House UK, where creatives around the world work on 7" album sleeves for 7 chosen tracks. You don't know who created the sleeve, or which song it's for, until you've unwrapped the sleeve you've purchased. This one is for "Digital Witness" by St Vincent.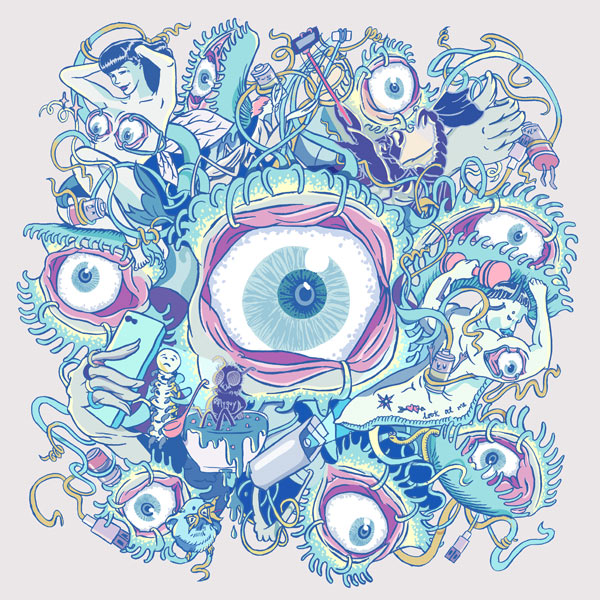 WTA Finals
View More
Scarf designed and produced as gifts for female athletes for the WTA Finals, commissioned by the Singapore Tourism Board. Titled "Tropical Nights", the illustration is of the tacca chantrieri, a rare flower that can be found growing wild here (a little nod to our greening efforts).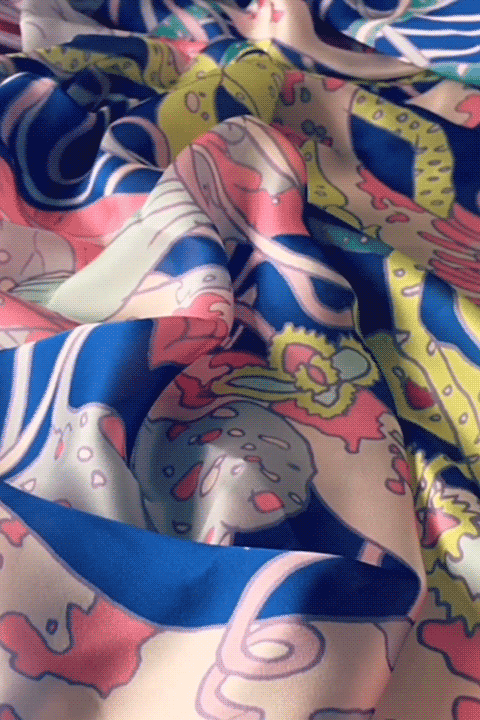 Sole Survivor for Larasati Auctioneers
View More
A determined Daruma toy doll rises from the shipwreck. True to his ability to recover from misfortune he straps on some Sole fish, seaweed and octopus to fuel his swim home.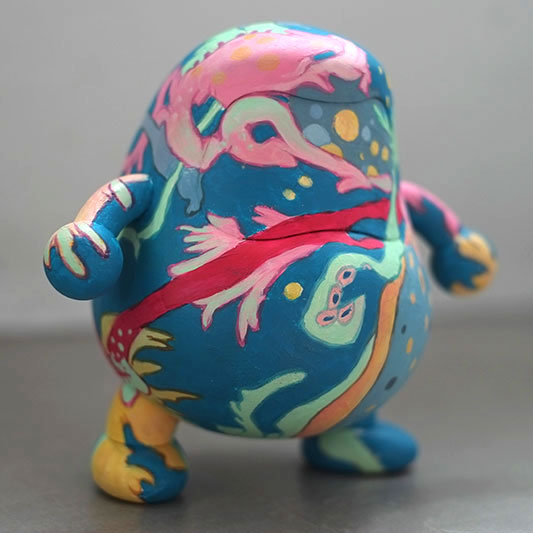 FormulaOne - Temasek Suite
View More
A painted ceramic bowl of fast and furious chrysanthemum blooms, commissioned as part of a wall installation for the F1 race.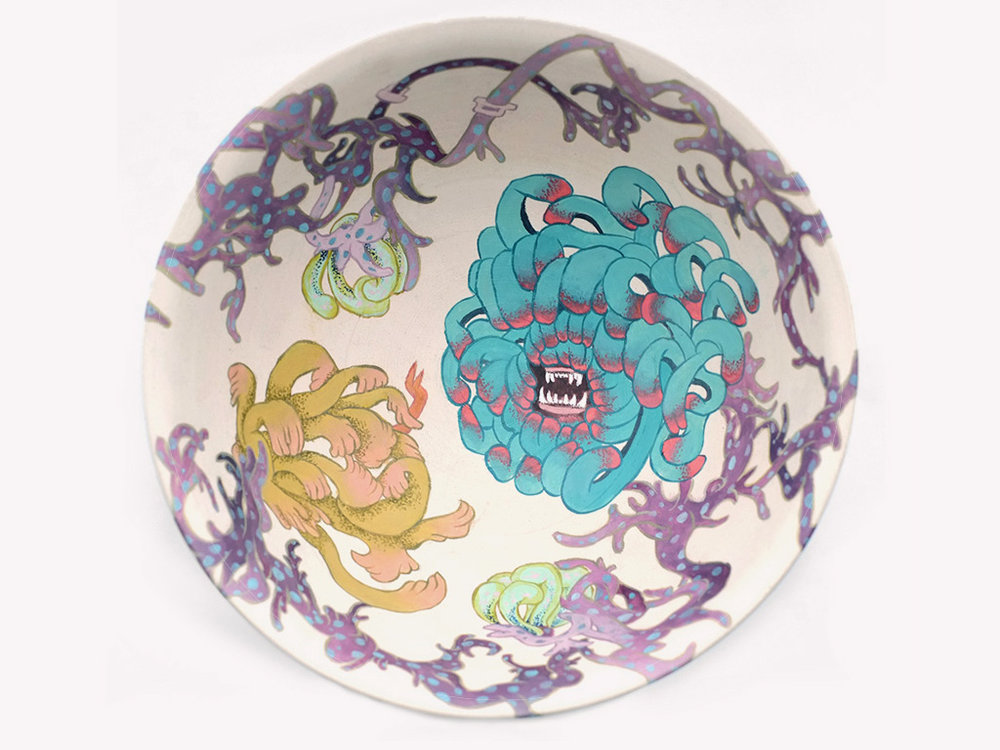 Heirloom Series - Harbingers
View More
Part of my first solo show "heirloom", featuring future versions of mangrove flora and fauna such as the Berembang, the sea hibiscus and the bats that feed on them.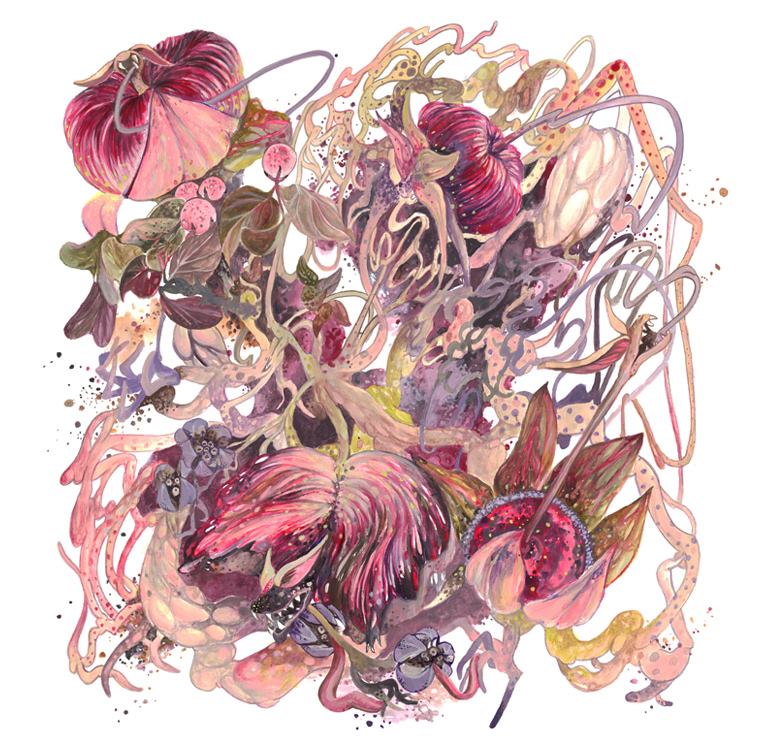 Supermama Plates - Tiger Orchid
View More
Tiger Orchid design for a collaboration with Supermama, a local design store featuring Singapore souvenirs.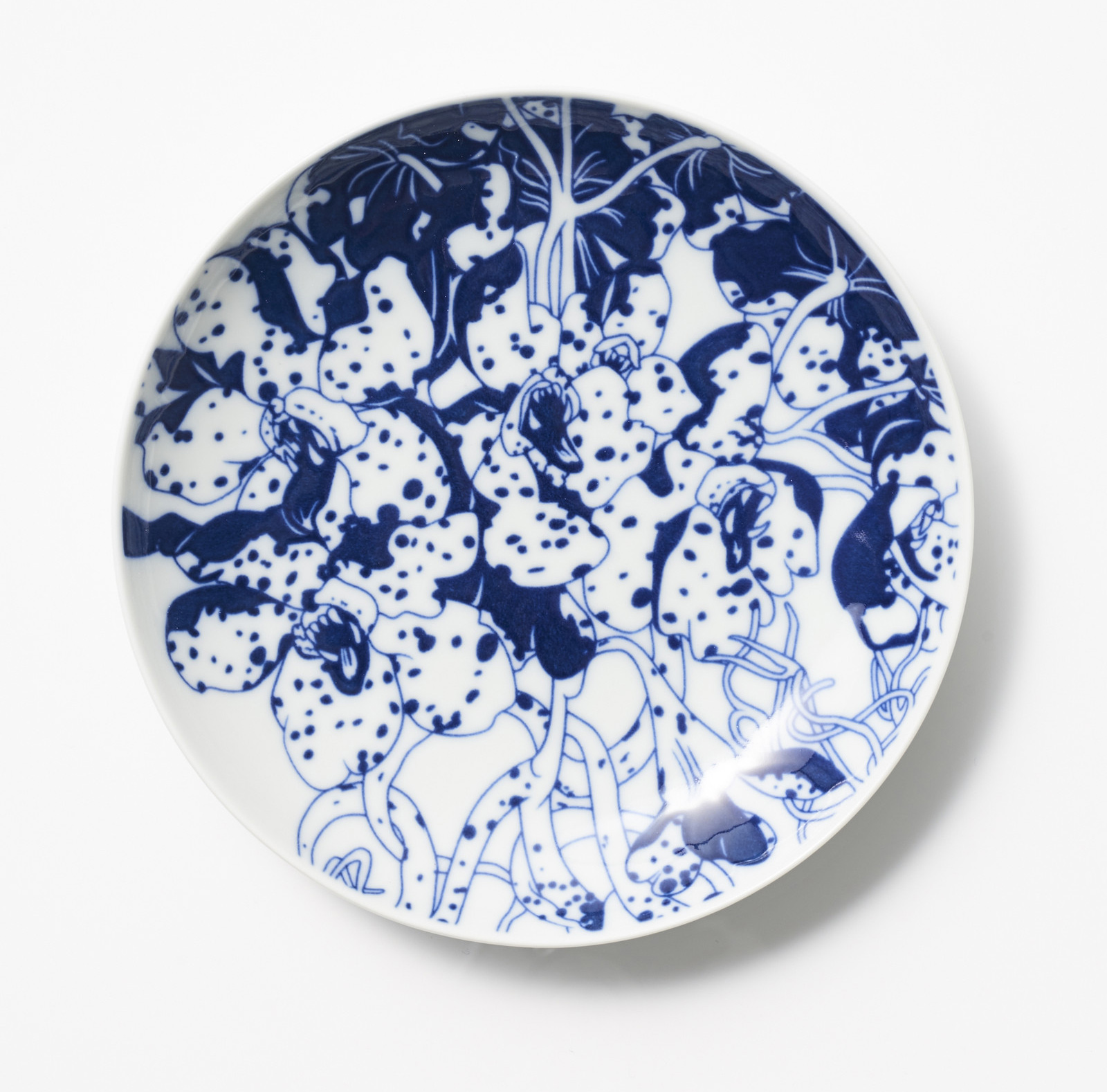 Crocodile Tears – Culture Cartel Con
View More
"Crocodile tears", 2 x 3m mural of a mutant Berus Mata Buaya plant (Eye of the crocodile), for a street culture con.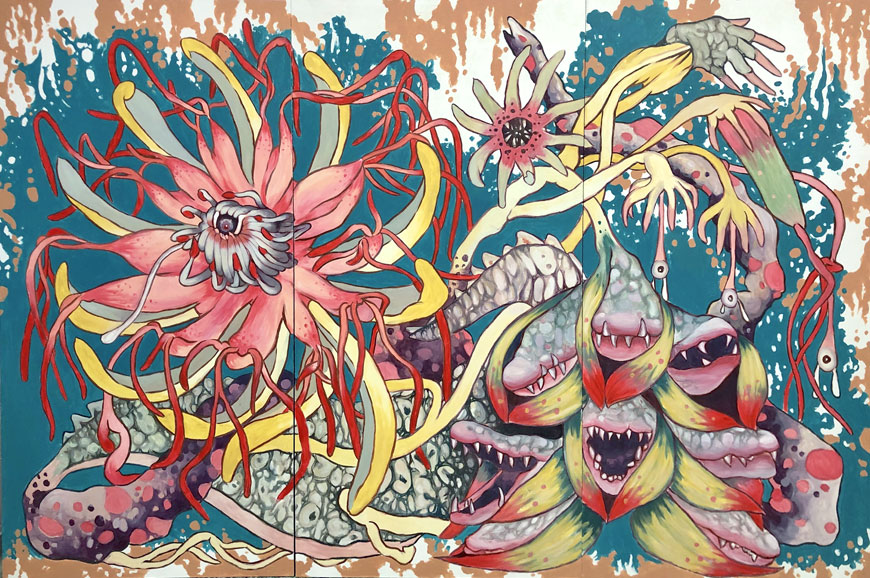 Today At Apple – Thinking Inside The Box
View More
Created visual assets for Today At Apple session, and conducted a workshop on how to create tileable patterns on iPad Pro and Procreate.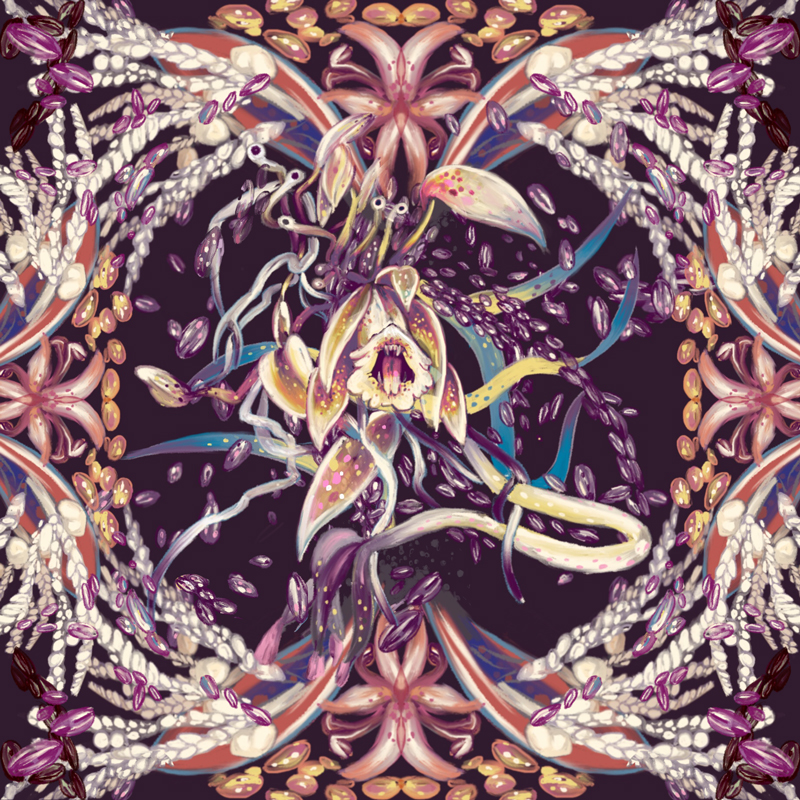 Supermama - Coast Guard
View More
Coast Guard features imagined future versions of tough, hard-living residents of the mangrove swamp going about their daily hustle. The book opens to a day shift version of the mangrove forest, flaking trunks and branches gilded with mud and salt crystals, roots taking a dip in cool water from the high tide. On the flip side, the swap at night shift with creatures of the dark coming out to play. Available at the Supermama Store.
Personal project - Tiger Teeth
View More
Painted on denim for a timid 4-year-old who loves tigers.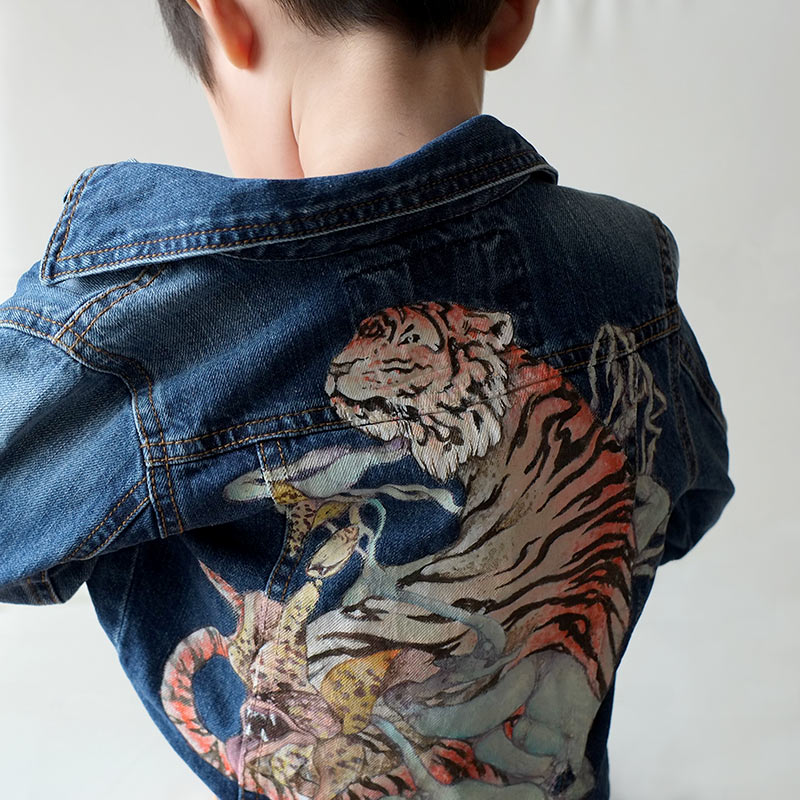 Voyager by Chris Chai and Mightyellow
View More
A multimedia installation for the Esplanade.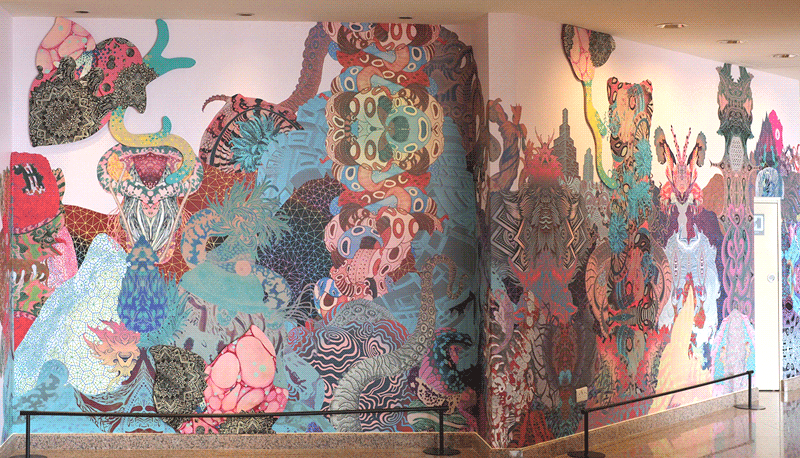 Curiouser and Curiouser – Wall mural on building
View More
Commissioned by the Singapore Land Authority for Design Distric Dialogue in Holland Village, e permanent mural of curious creepers looking into residential home balconies.
Illustration Arts Fest 2017 Poster
View More
Artwork for 2017's Illustration Arts Fest poster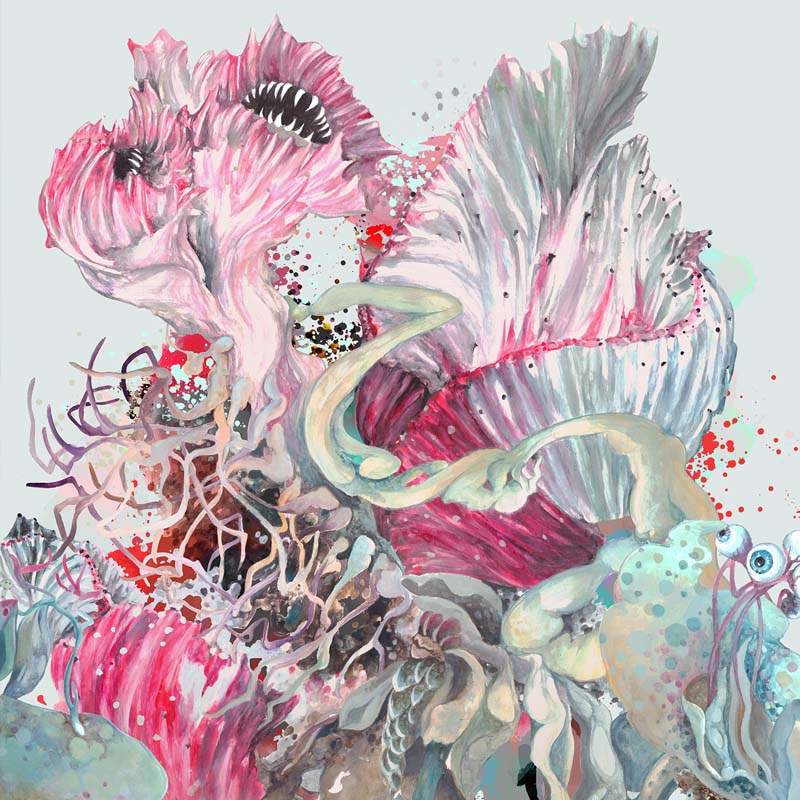 Onitsuka Tiger
View More
A little shoe project for Onitsuka Tiger, in celebration of the 50th anniversary of their iconic tiger stripes for the mex66.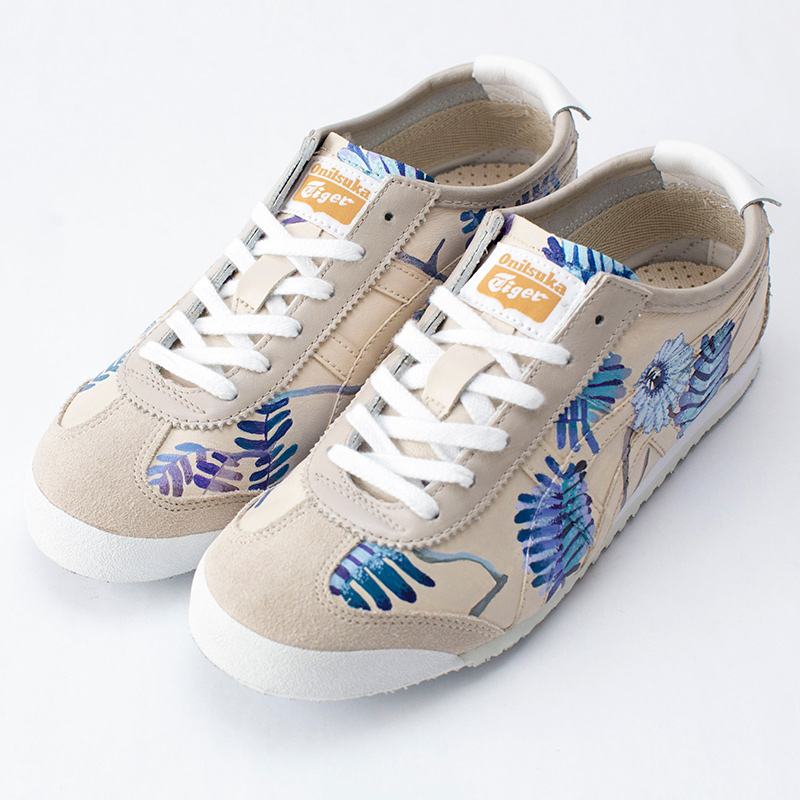 Heirloom Series - Born To Be Wild
View More
"Born to be wild" a song of the same title by steppenwolf, is in both popular and counter culture, a song related to biker attitude. I remember as a child on a kiddie ride I have always imagined myself being on a wild adventure, and every ride was magic. Part of my first solo show "heirloom".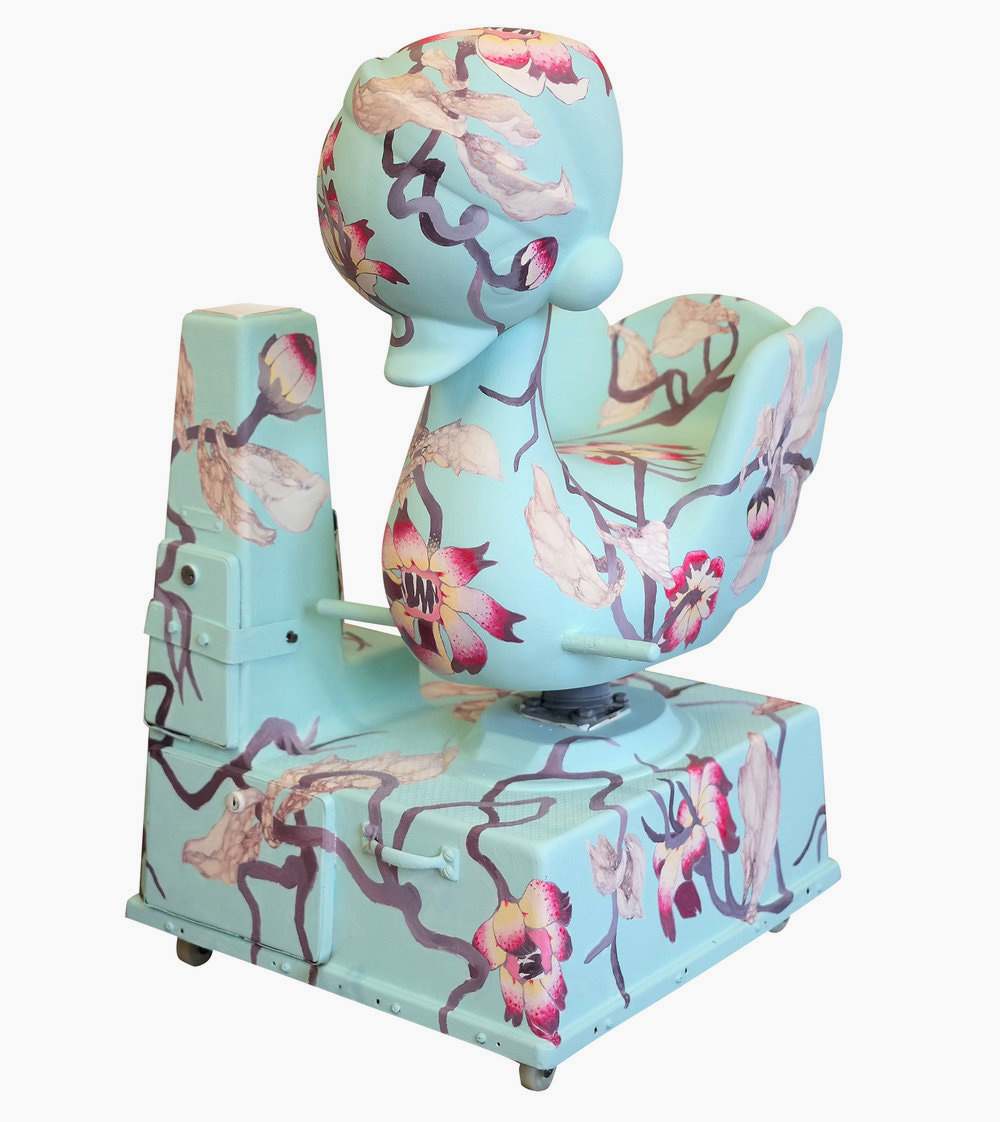 P.V.S Window Display Installation Project
View More
Commissioned by sneaker retailer Provisions(P.V.S) as part of their "Female Art Movement Project", to create an installation in their window display space.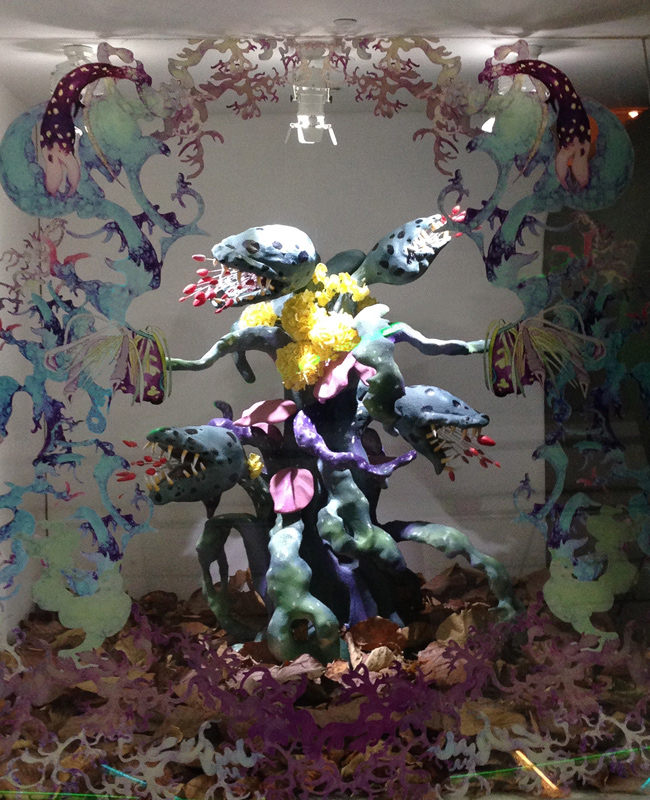 Facebook APAC HQ - FB Facts
View More
A group of artists were invited to each create an illustrated Facebook fact to be displayed at the launch of Facebook's Singapore Headquarters in 2011. My assigned Facebook fact was: "The average Facebook user has 130 friends and creates 90 pieces of content each month" . This was visually interpreted as a giant burger, as the amount of content uploaded each month would average out to 3 pieces per day, similar to the number of meals an average person has.
Saturday Night Dive
View More
Hand painted Gachapon machine depicting story of the last wild tiger in Singapore, rumored to have escaped by swimming. Capsule toys are local microscopic water/sand dwellers made from clay and discarded plastic.
Blossom Buddies
View More
A painted phenakistoscope on upcycled vinyl record for ATTAGIRL! Collective, part of proceeds go to UN Women.
Block Party – collaborative installation with SKL0
View More
Contributed a piece to SKL0's HDB public housing block inspired installation featuring artwork by 31 other artist friends, stacked together forming a building within the atrium of the National Design Centre.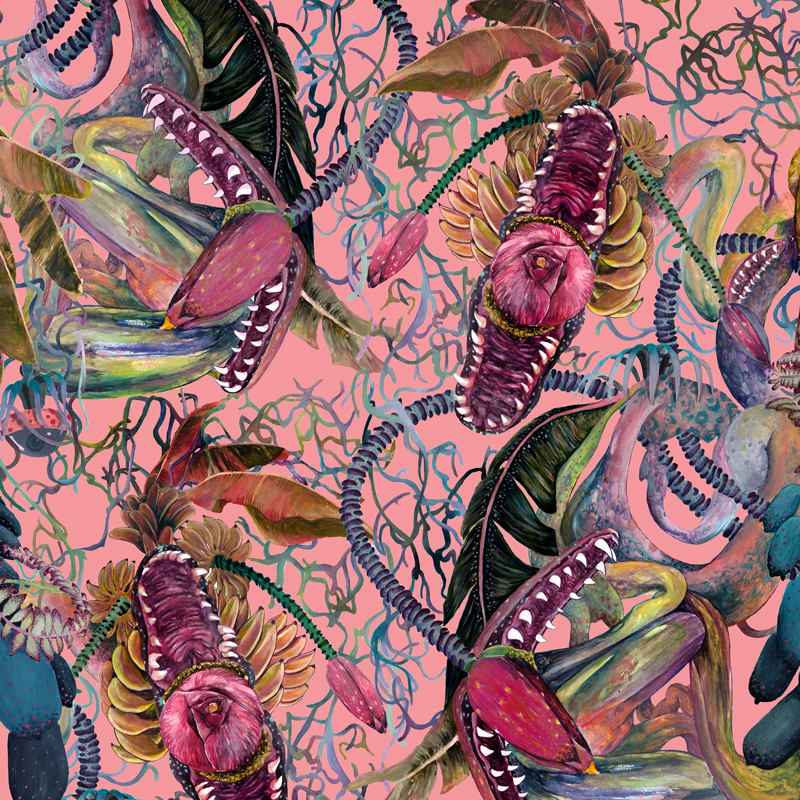 Gallery & Co - The Artist Project
View More
A collaboration with the National Gallery's Gallery & Co, to merchandise under the project "Siapa Nama Kamu?" or, "What is your name?" in Malay. It is the title of the inaugural exhibition at the DBS Singapore Gallery. The products in this first exclusive capsule collaboration are usable and wearable forms of art created by artists and designers as a contemporary take on what Singapore means to them. For this series – imagined botanical creatures, inspired by both local and imported flora and fauna, were painted as a representation of the inhabitants of this Garden City. Available at Gallery & Co.
9 Namly Grove
View More
Watercolour painting commissioned for the developers of 9 Namly Grove, a bespoke home designed and built in one of the more scenic areas in Singapore.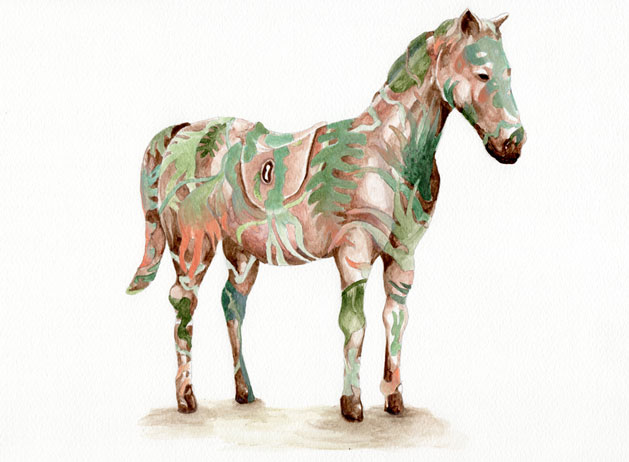 APSN Fundraiser
View More
Painted this Bearbrick with an allover bougainvillea pattern,as part of a series of Singapore themed Bearbricks made for Medicom Toy distributor, Action City. Put up for auction with proceeds going to the APSN charity (association for persons with special needs)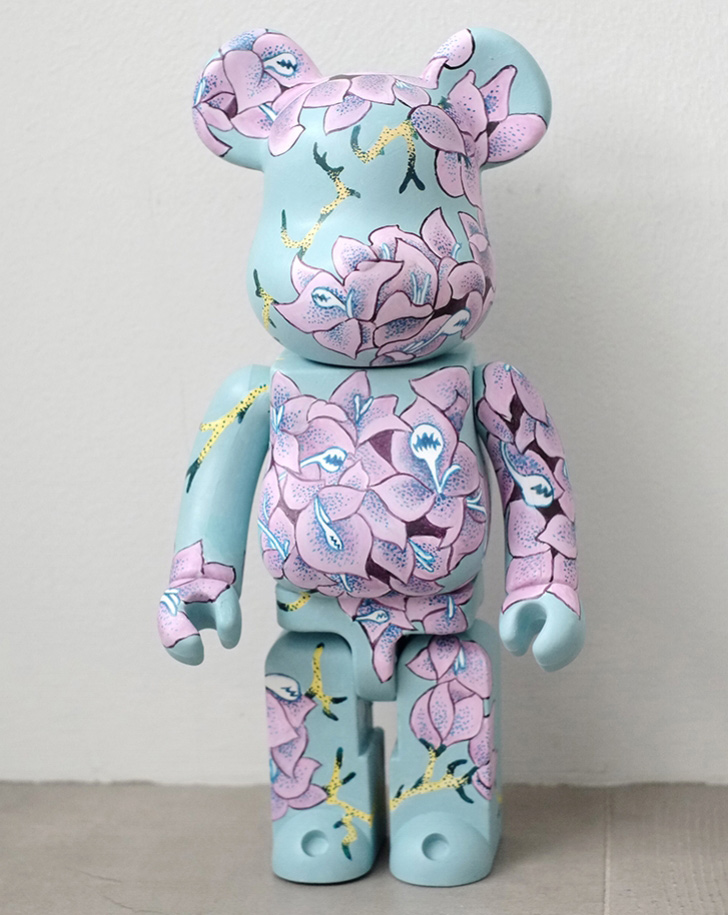 Atta Girl! - Tiger Mom
View More
"Tiger Mom" is a painting on denim jacket made for Atta Girl!'s 3rd anniversary party, with proceeds going to charity. Featuring a pair of peonies, with an embroidered hand-like vine reaching out for you everytime you absent-mindedly reach into the pockets..
Pioneer Portraits - City in a Garden
View More
A 3m tall panel I worked on for Orchard Road, Depicting the milestone, "City in a Garden". Part of the SG50 celebrations, it is designed and curated by studio OuterEdit, sponsored by Lee Foundation and Rich-Art Enterprises Pte Ltd, and supported by Singapore Tourism Board and SG50 Celebration Fund. Pioneer Portraits is a compelling showcase of Singaporean history – a celebration of her milestones, presented by her creative community.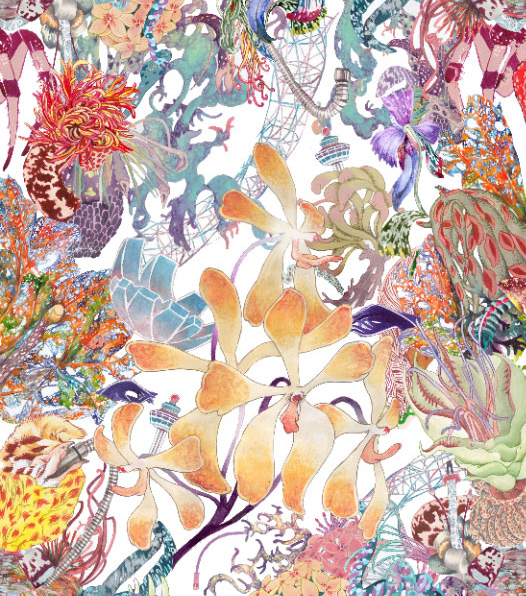 FormulaOne - Singapore Suite
View More
A wall installation of 72 painted plates with a peranakan theme, titled "A Tok Panjang Feast", at the F1 Singapore Suite. Made this with artists twisstii, Kaiyee Tay and Mary Bernadette Lee.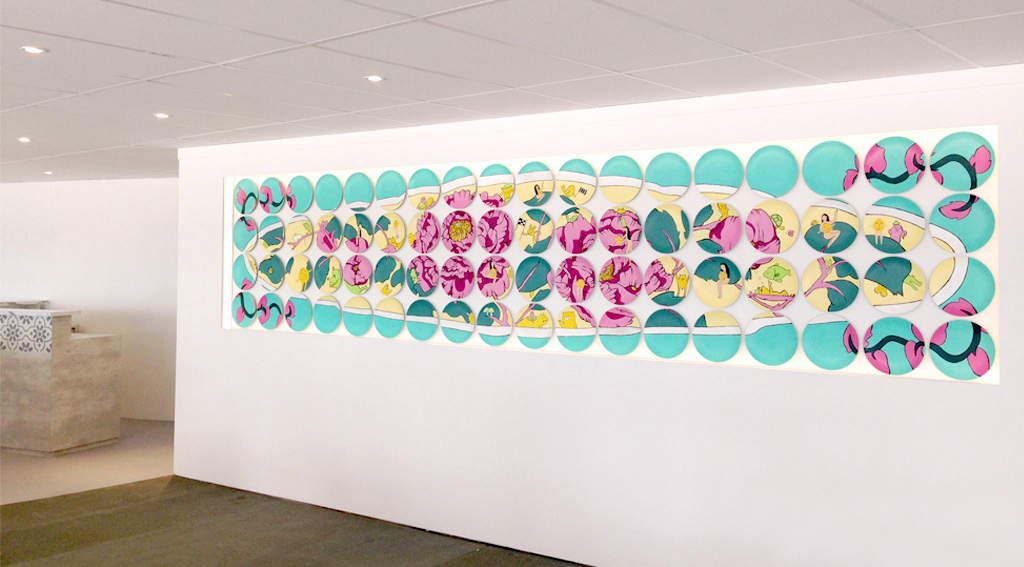 The Projector
View More
Illustrated a movie poster as part of Kult's movie poster (A to Z) project for independent film theatre, The Projector. I was given Zombieland to illustrate, incidentally also one of my favourite movies. Tshirt and prints of this available at Kult store.